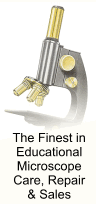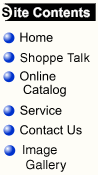 The Scope Shoppe is your best source for microscope parts, bulbs, and service.

Parts
The Scope Shoppe, Inc. maintains an extensive inventory of used student microscopes. If you have a set of microscopes that have been discontinued by the manufacturer and need one or two scopes to add to your set, let us know what you need. More than likely, we'll have your scope in stock.

For the "do it yourselfer", we offer a complete inventory of new, used, and discontinued parts. Let us know what your needs are.


Bulbs
Don't forget to keep a couple of extra bulbs for your microscopes on hand. Contact us with your model of microscope and we will identify the type of bulb you need.

We have a generic line of microscope bulbs available for many models that can save you up to 50% over the "factory" bulbs.

Service
Service is the foundation of our company. Since 1977 we have serviced over one million student microscopes. We are proud to be able to bring reputable microscope care and repair to the science educators. We believe our General Maintenance Program is the most complete repair and preventative maintenance service available today.

We offer on-site service in Illinois and Wisconsin. We also offer a nation wide "mail order" microscope care and repair program. We can provide shipping cases for you to ship your scopes to us. They will be serviced in our shop and returned to you.

We also offer electronic and mechanical balance service and repair.

Please contact us for complete information, service area, and prices.